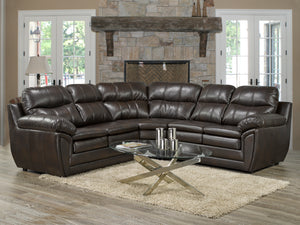 The Quartz Sofa Sectional Seating Collection is beautifully hand crafted in Canada with pride. The elegant curves and comfortable arms create a unique sofa sectional. The arms are padded for extra comfort. The back and seat cushions are machine filled with high density foam and insulating fibres that allow the materials to remain at the optimal seating level required. Choose from soft, medium, or hard foam seating. Extra firm seating is also available for those with back pain that require hard seating. The back and seat cushion are beautifully crafted with a simple design. This sofa sectional collection features optional solid wood legs or chrome legs. This sectional can be customized in size shape and colour. We have over 40 leather options and 1000's of fabrics available. This set is proudly handmade in Canada. Please contact us or visit the showroom for more details and to build your own custom sectional. 

Made in Canada using Canadian hardwood and high quality engineered wood

No-Sag spring technology for longer-lasting springs 

with insulated wire for maximum stability and uniform support
Cushions feature a high-density foam with a pillow top wrap around for additional comfort and support, with a zipper for easy cleaning and replacement
Choice of Colour, Fabric or Leather available 

Custom size available. 
Please contact us or visit our Mississauga showroom for more details