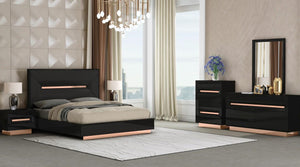 Introducing the epitome of sophistication and comfort: the Talia black bed with rose gold accents and bonded leather padded headboard. This stunning piece of furniture seamlessly combines modern design with luxurious materials, creating a bedroom centrepiece that exudes both style and relaxation.
Crafted with meticulous attention to detail, the bed features a pristine black frame that instantly transforms any room, creating a serene and inviting atmosphere. The use of high-quality rose gold accents adds a touch of contemporary elegance, providing a subtle yet striking contrast against the clean black backdrop.
Enhancing both aesthetics and comfort, the bed's headboard is adorned with bonded leather upholstery. This bonded leather not only adds a layer of opulence but also provides a sumptuous feel against your skin, inviting you to indulge in a restful night's sleep. The bonded leather detailing is not only visually appealing but also easy to maintain, ensuring long-lasting beauty.
The sleek and streamlined design of this bed effortlessly complements various decor styles, making it a versatile addition to any bedroom. Whether your space leans towards minimalist, modern, or even transitional aesthetics, the black bed with rose gold and bonded leather accents becomes a focal point that ties the room together with its timeless appeal.
Transform your bedroom into a sanctuary of style and comfort with this exquisite bed. It's more than just a piece of furniture; it's a statement of refined taste, promising a restful haven for nights of blissful sleep and a visual delight for years to come.
8 piece set includes bed, dresser, mirror, chest, and 2 nightstands
Dimensions:
| | | | |
| --- | --- | --- | --- |
| Name | Width | Height | Depth |
| Queen Bed | 61 | 54 | 80 |
| King Bed | 79 | 54 | 80 |
| Dresser | 65 | 33.5 | 19 |
| Mirror | 33.5 | 47 | 2 |
| Chest | 35 | 47 | 19 |
| Nightstand | 25 | 19.5 | 17.5 |
Shipping:
This item will be available for pick up or delivery in approximately 1 - 2 weeks. Shipping cost will vary depending on location. Professional assembly is available.